Anti-slip tiles are a type of flooring that helps prevent slips and falls. They're made from materials like rubber or vinyl, which have a high coefficient of friction (the amount of force needed to slide an object over another). This means that if you step on them, it will be much harder for your foot to slip off the surface than if you were standing on regular tile or wood flooring.
Anti-slip tiles are especially important for people who live in areas with high humidity levels because these conditions can make surfaces slippery even when there is no water present! The most common place to see anti-slip tiles is in bathrooms where they can help prevent injury from falls while showering or bathing.
Benefits of Anti-Slip Tiles
Anti-slip tiles are a great way to increase safety in your home. They're also durable, and easy to maintain.
Anti-slip tile can be used in just about any room of the house, from the kitchen to the bathroom and even on stairs or landings. They're ideal for areas where there is a lot of water or moisture because they prevent slips and falls that could lead to serious injuries like broken bones or concussions.
These tiles come in many different colors so you can match them with your decorating scheme, but they still offer good traction even when wet (which makes them perfect for kitchens). When installed correctly with the adhesive that's designed specifically for this purpose (such as 3M 9150), they'll stay firmly in place without shifting underfoot while providing excellent traction even when wet!
Types of Anti-Slip Tiles
There are many types of anti-slip tiles to choose from, each with its own benefits and drawbacks.
1. Ceramic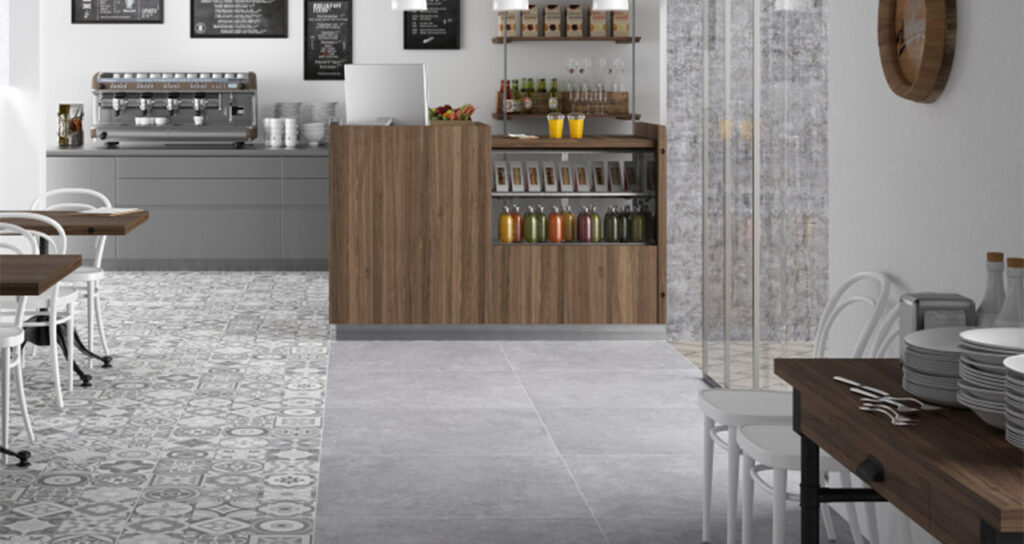 This is a popular choice for homeowners because it's affordable, easy to install, and comes in a variety of colors and styles. However, it can be difficult to clean if you have pets or children who like to play in the kitchen or bathroom (they'll leave behind hair).
2. Porcelain
This material is stronger than ceramic but still fairly affordable. It's also less porous so stains won't show up as easily on porcelain surfaces as they would on other materials such as natural stone or rubber floors.
3. Natural stone
If you're looking for something more unique than what's offered by most manufacturers today then consider installing natural stone flooring instead! It has an elegant look that will add value when selling your home later down the road too!
Advantages of Ceramic Anti-Slip Tiles
Ceramic anti-slip tiles are a great choice for your home or business. They come in a wide variety of colors and textures, making them ideal for any room. They're also cost-effective, durable, and easy to maintain.
Advantages of Porcelain Anti-Slip Tiles
1. Low maintenance
2. Waterproof
3. Low-cost
Advantages of Natural Stone Anti-Slip Tiles
Durable: Natural stone tiles are highly durable, so you can rest assured that they will last for many years. They are also resistant to heat and moisture, which means that they won't crack or warp at high temperatures or when exposed to excessive moisture.
Unique look: Natural stone tiles have their own unique look that sets them apart from other types of flooring materials such as wood and vinyl flooring. If you want something more interesting than standard carpeting or linoleum but less expensive than ceramic tile, then natural stone is an excellent choice!
Heat resistant: Natural stones such as marble are known for being able to withstand high temperatures without cracking or chipping away over time like some other types of materials would under similar circumstances (e.g., ceramics). This makes them ideal for kitchens where there may be appliances like ovens nearby which could cause damage if placed directly onto regular flooring materials such as linoleum or hardwood floors
Advantages of Rubber Anti-Slip Tiles
Anti-slip tiles are easy to install and can be used in a variety of situations. They're shock absorbent, so they reduce the impact of footsteps on your flooring. They also help reduce sound when people walk across them, which is ideal for areas like offices or hallways where you want quiet but still want to be able to hear someone coming up behind you.
Installation of Anti-Slip Tiles
To install anti-slip tiles, you'll need to do the following:
Prepare the surface. If you're installing them on a smooth flooring such as vinyl or linoleum, you can use a sandpaper block to roughen up its surface. If you're laying them over carpeting or wood floors, however, it's best to leave them as they are and let them be covered by rugs or mats later on (this will prevent any damage from occurring).
Lay out your tiles according to their design plan in order for them all to line up correctly when they're laid down later on. This can be done by placing cardboard pieces underneath each tile so that they don't shift around while working with other ones nearby–just make sure not too much glue gets onto these sheets! It's also important not only because this makes things easier when doing so but also because this way helps ensure quality control throughout the installation process; if there are any mistakes made during installation process then those mistakes will show up immediately afterward instead later down road somewhere else which could cause problems further down road after installation work has been completed already."
Maintenance of Anti-Slip Tiles
Anti-slip tiles are a great way to keep your floors safe and clean, but they do require some maintenance. The most important thing you can do is clean them regularly. If you don't want to use harsh chemicals on your anti-slip tiles, use a soft cloth or mop with warm water and mild soap instead. This will remove dirt and grime from the surface of your anti-slip tiles without damaging them in any way.
After cleaning, it's important that you seal your anti-slip tile flooring so that it lasts longer than normal. Sealing helps prevent stains from setting into the material of the flooring itself; this makes it easier for repairs later on down the line if something does happen (like when someone spills something). Some types of sealants are also waterproof so they can help protect against water damage as well!
If any repairs need done after an accident happens (or just wear over time), make sure those repairs are made properly before putting everything back together again–this will ensure that nothing slips through cracks later on down the line either!
Conclusion
When it comes to your safety, you can't afford to be careless. It's important that you take the time to consider all of the options available for your floors and learn about each of them before making a decision. You may have heard about anti-slip tiles before, but did you know that there are many different types?
If you're interested in learning more about these products or would like help choosing an appropriate option for your home or business, contact us today! We'll be happy to answer any questions that come up during our conversation so that we can provide accurate information every step of the way.