Your home's heart is its flooring. Your home's furniture and fixtures can be changed more easily than the flooring, which is a permanent fixture that is more difficult to alter.
It takes a lot of work to change the flooring. Additionally, it could become expensive in terms of both expenditure and difficulty.
Due to their increased durability and aesthetically pleasing appearance, tiles are a widely popular building material for floors (as well as for walls). However, several kinds of tile flaws may show up on the tile surface over time due to wear and tear and improper maintenance.
Inadequate installation methods or the use of materials that are inappropriate for tile surfaces might result in tile problems. Inadequate cleaning, uneven grout joints, poor adhesion, poor quality adhesive, and other factors can also cause tile flaws. Your home looks ugly due to these flaws.
Floor tiles provide resistance to deterioration brought on by foot traffic, furniture movement, etc. Additionally, they are water resistant, protecting against spills.
Buckled Tiles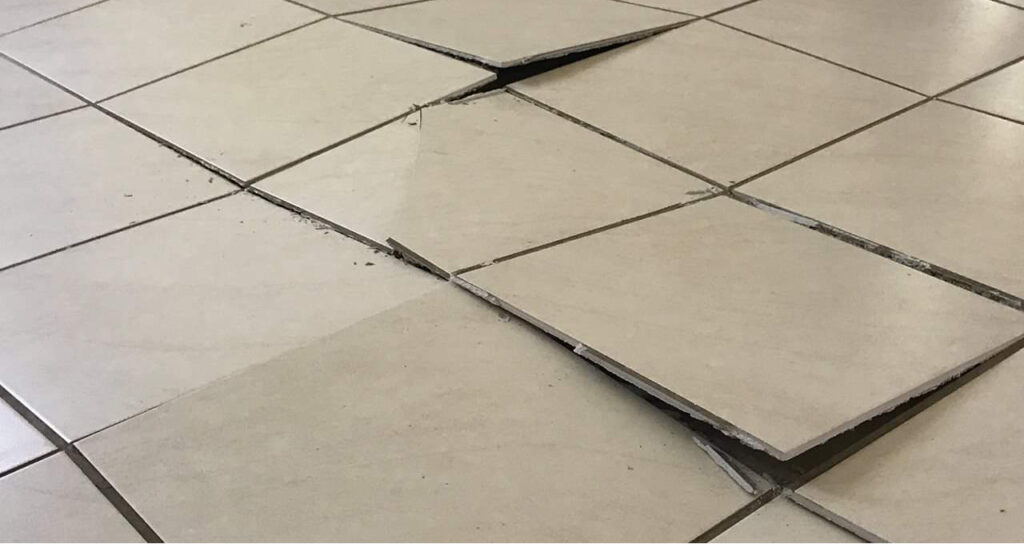 A "tent-like" bulge is produced in your floor when floor tiles begin to move from their original installation position and begin pressing other tiles up against one another. Tiles with buckles are what this is. Pop-up tiles is another name for this flaw. If this is not fixed right away, damage to the subfloor may increase.
All varieties of tiles, including ceramic and vitrified tiles, could develop the problem of buckled tiles if sufficient care is not taken when installing them.
Causes
The primary reasons why tiles buckle are an uneven subfloor, the tiles absorbing moisture, insufficient cleaning, weak adhesive, etc.
A flawlessly tiled floor may occasionally buckle up in various seasons as a result of temperature changes, faulty tile installation, and several other circumstances.
Cracked Tiles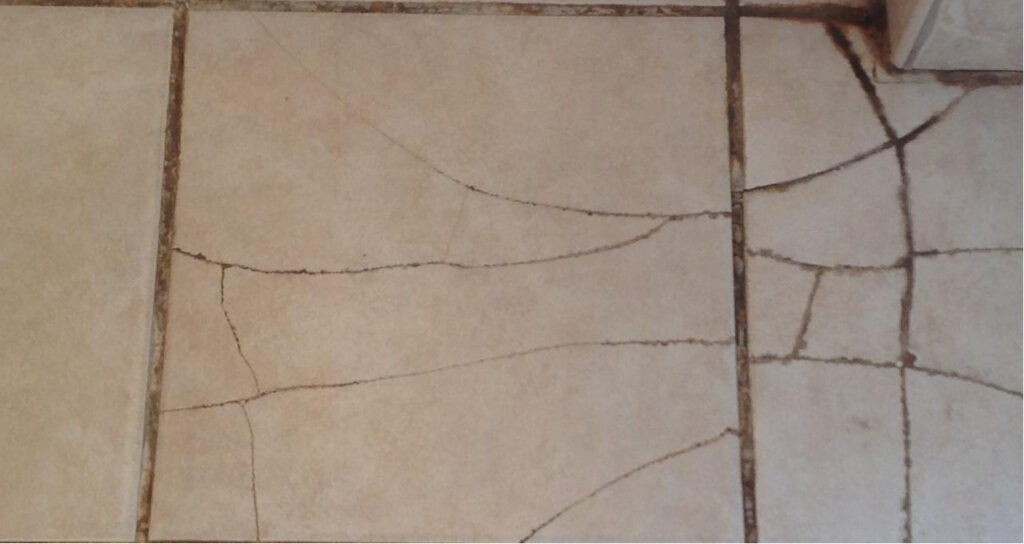 There will be a void under some tiles if the glue covering the full surface does not extend all the way down. These tiles may crack if pressure is applied to them.
Causes
The primary reasons for cracked tiles are heavy objects like pots, cans, etc. being dumped on the tiles, the use of inferior tiles, an inappropriate subfloor, faulty cutting, and poor handling, etc.
Rust Stains on Tiles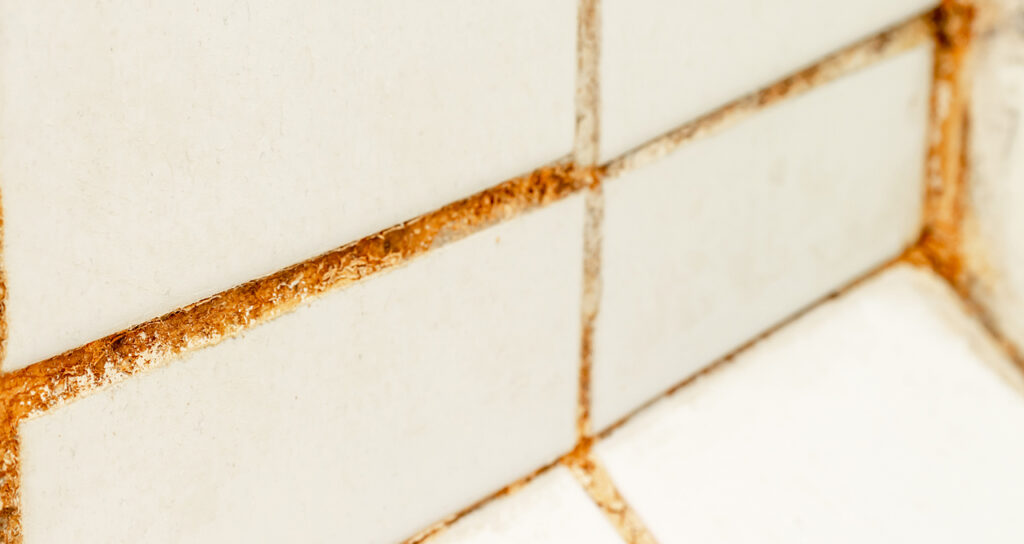 Mold fungus and rust growing in tile joints in damp poorly ventilated bathroom with high humidity, wetness, moisture, and dampness problem in bath areas concept.
Rust stains on tiles are caused when metal that is in contact with water on a tiled surface eventually deposits iron particles on the tile. One of the main issues you may have in your kitchen or other damp areas with tile surfaces is rusting.
Rust may cause holes in the tile by weakening it. This can lead to further subfloor damage.
Causes
Rust stains on tiles typically result from leaks at sinks, toilets, and showers, among other places. Gas cylinders are one of the primary causes of rust stains on tiles. It leaves a thick layer of rust buildup on the floor that is challenging to remove.
Faded Tiles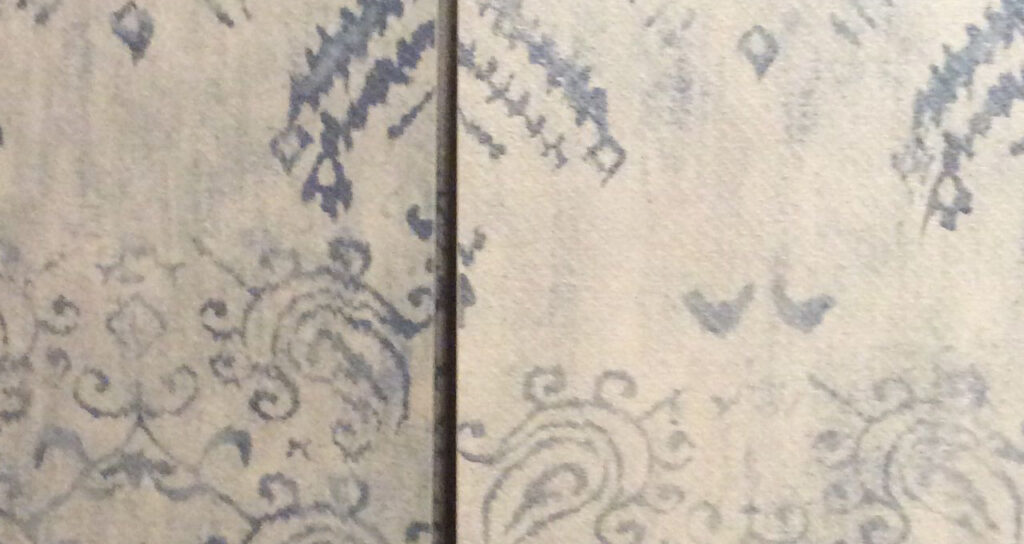 Fading tiles are those that have lost their sheen from exposure to sunlight or overuse of harsh chemicals. The shower areas of homes are where fading tiles are most frequently found.
Causes
Due to the sun's continual UV radiation, tiles essentially deteriorate. Acidic cleaners are overused in shower areas, which causes tiles to fade. Sometimes body fat and soap build up in one area of a tile installation owing to incorrect grouting. Tiles deteriorate due to this Additionally, tiles fade when they are not cleaned correctly because of the buildup of dust particles.
Variation in Shade of Tile
The visual characteristics of the tile surface, such as its color and the pattern of how color or design is distributed across the tile surface, are combined to form the tile's shades. There is some variation in the color, tone, and pattern throughout the entire batch of tiles.
During the manufacturing process, tile colors can change. It is the variance in color intensity or hue between several tile batches.
Causes
Tile shade variation is caused due to the water absorption, variation in firing or concentration of input chemicals during manufacturing etc. Therefore, basically, it is a manufacturing defect.
Chipped Tiles
Chipped tiles are a fault that results from an unintentional drop of a heavy object onto the tile surface.
Causes
Additionally, pushing heavy furniture across the surface of the tiles or dropping a hard object on the surface might result in chipped tiles.
Our objective was to make you aware of these tile defects, so that you can protect your flooring and also save money too.
Get in touch with Antica Ceramica to get consultation as well as a wide variety of tile styles and designs.