It is not a hidden fact that color influences emotion and ambiance. The same is true when it comes to home décor as well. The tile color you choose will set the room's tone, so it is not a decision that you can make lightly.
Imagine walking into a room and instantly feeling warmth, serenity, or invigoration. All that is possible through a simple decision: choosing the right tiles from the best tiles store in Delhi. And while we cannot ignore the impact of every element in the space, the color of the tiles often sets the foundational mood. So, it becomes imperative that we make the right decision, and this guide will help you do just that.
Understanding The Emotive Power Of Colors
Before we delve into the area specifics and focus on which color tiles are best suited for which space, it is best to understand the power of each color when it comes to tiles.
Warm Tones: Reds, Oranges, And Yellows
Warm colors, particularly the vibrant hues of reds, oranges, and yellows, are often associated with the warmth of the sun, the joy of summertime, and the cozy embrace with the warmth of the sun. These colors have the tendency to evoke strong feelings of happiness, optimism, and energy. This is something that you need to keep in mind when you are thinking about pairing it with the space.
Cool Tones: Blues, Greens, And Purples
While warm tones are the choice of many, there is an alternate that you should also consider, i.e., cool colors. This assortment includes colors such as blue, green, and even some shades of purple. These shades are renowned for their ability to instill a sense of calm, relaxation, and spaciousness – something that gels well for home décor.
Consider Neutral Colors
Warm and cool colors are at the other end of the spectrum – but they are not the only options available to you. There are a plethora of neutral color options that would make for an excellent choice as your tile color for your homes. These colors exude a sense of sophistication, seamlessly blending with various décor elements. Now, who would not love that?
Matching Room Purpose With Color
Now, the next step of the process is to match your space with the right color combination. This becomes easier with the help of our following guide. Here, we will try to distinguish different color combinations with the area they are suitable for.
Living Rooms and Common Areas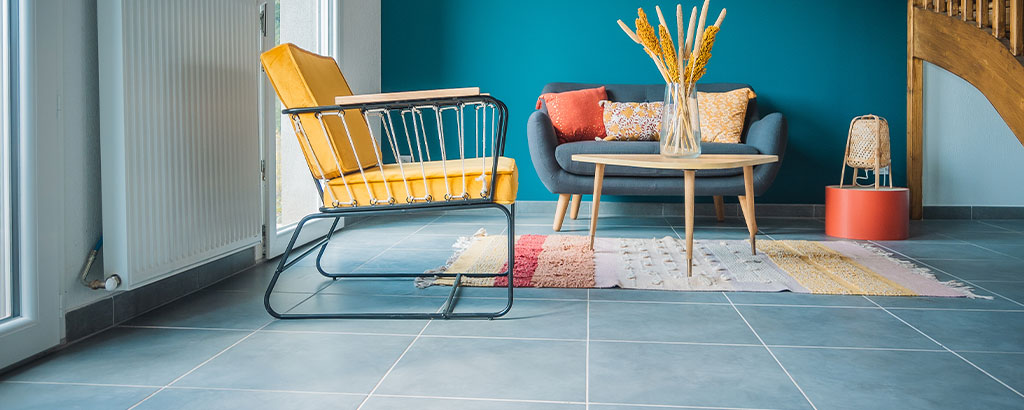 Your living room serves as a melting pot of memories, conversions, and collective energy of the space. It is the lifeblood where everything happens, so naturally, you would want the tiles that will amplify this space and its characteristics. And the best color options that you can go for are warm tones such as oranges and earthy browns. They are best if you are looking to create a conversational space.
On the other hand, soft yellow is also an excellent option that you can go for. They exude a welcoming charm and positivity in the space.
Bedrooms
Your bedroom is your sanctuary; this is the space where you come to rewind and relax after spending a day of hard work (or not). So, the best way you can go about this is to opt for a tile setup that mirrors the tranquility and comfort one desires at the end of the day. And for that, you cannot make a better decision than going with calming colors. Neutral tones such as soft grays or muted beiges would also make for an excellent choice.
Kitchens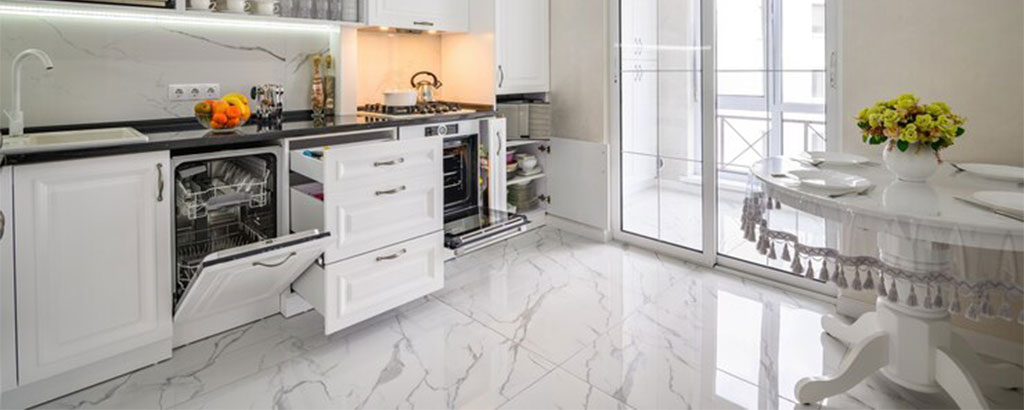 Kitchens are often called the heart of a home – and for good reason. After all, this is the place where magic happens. So, this place calls for creativity to stimulate the senses of the cook.
Red and Oranges are the colors that would be best for you here. These colors are known to increase appetite and energy. You can also go with soft peach or light terracotta to add warmth, fostering a cozy, inviting feel.
Don't shy away from going with green color in your kitchen. They are the perfect representation of freshness and would complement the overall theme of your space.
Bathrooms
Finally, we come to the most personal space in your home – your bathroom. Your bathroom is more than just a functional space; it is a retreat. The right color here can turn this space into a spa-like sanctuary.
When it comes to color tones here, going with cooler options, such as shades of blue and soft greens, would work best. They reflect cleanliness and offer a calming effect, just like water. Going with whites and light greys is also something that you would not regret! Pair them with the right colors, and they would enhance the feeling of spaciousness and purity.
Final Thoughts
Choosing the right color for tiles in any space goes beyond aesthetics; it is about weaving emotion, design, and functionality into one. It seems like a difficult task, but with the right companion to guide you, you can create a masterpiece that would evoke the right feeling in the space. That partner is Antica Ceramica – the best place to buy tiles online Delhi. Don't wait; reach out to us today!