All our lives, we struggle to find the right tiles, that look just the perfect match for us and our home! And more so, the kitchen is the heart of the home, it has to look just phenomenal. Tile offers a range of benefits, including being easy to clean and maintain, as well as providing a unique and stylish look. If you're looking to update your kitchen in the coming year, you may be interested to know what the latest trends in kitchen tiles are. 
For 2023, homeowners are looking for tiles that are both stylish and functional. Natural materials and earthy tones are popular, as tiles with unique patterns and textures. Large tiles are also trending, as they create a modern and sleek look. Let's find out more about what styles of tiles are trending in 2023.

Essential of Kitchen Tiles
Kitchen tiles are an essential component of any kitchen design. They offer a range of benefits, including durability, ease of maintenance, and a stylish aesthetic. Kitchen tiles can be used for countertops, backsplashes, and flooring, and they come in a variety of colors, patterns, and textures. Here are some of the essential features of kitchen tiles:
Durability: Kitchen tiles are designed to withstand heavy use, spills, and stains. They are made of durable materials, such as porcelain, ceramic, or natural stone, which can last for years with proper maintenance. Unlike other kitchen surfaces, such as wood or laminate, tiles do not easily scratch, chip, or warp.
Ease of Maintenance: Kitchen tiles are easy to clean and maintain, making them a popular choice for busy households. Tiles can be wiped down with a damp cloth or cleaned with a gentle cleanser to remove spills, stains, and grime. Unlike other materials, such as wood or carpet, tiles do not absorb moisture or harbor bacteria, which can make them more hygienic and sanitary.
Style and Design: Kitchen tiles offer endless possibilities for design and style. They come in a range of colors, patterns, and textures, which can be used to create a unique and personalized look for your kitchen. From bold patterns and textures to subtle shades and hues, kitchen tiles can be customized to match any design style, from modern to traditional.
Versatility: Kitchen tiles can be used for a variety of surfaces in the kitchen, including countertops, backsplashes, and floors. Tiles can be cut and shaped to fit any space, making them a versatile option for any kitchen layout. Additionally, tiles can be used to create accents or focal points in the kitchen, such as a tiled backsplash or a tiled island.
Cost-Effective: While some types of kitchen tiles can be expensive, overall, they are a cost-effective option for kitchen surfaces. Compared to other materials, such as natural stone or solid surface countertops, tiles are typically more affordable. Additionally, tiles can add value to your home and increase its resale potential.
Ask our Experts: https://www.anticaceramica.in/ or Call us at: +91-9891075770
Kitchen Tiles' Latest Trends
As we approach 2023, homeowners are increasingly looking for kitchen tile trends that are both functional and stylish. From unique patterns to earthy tones, here are some of the latest kitchen tile trends for 2023:
3D Tiles:
3D tiles are a relatively new technology that allows for the creation of tiles with three-dimensional shapes and textures. These tiles can add depth and interest to a space and can be used for feature walls or as accents. They are available in a range of materials, including porcelain and glass, and come in a variety of patterns and designs.
Smart Tiles: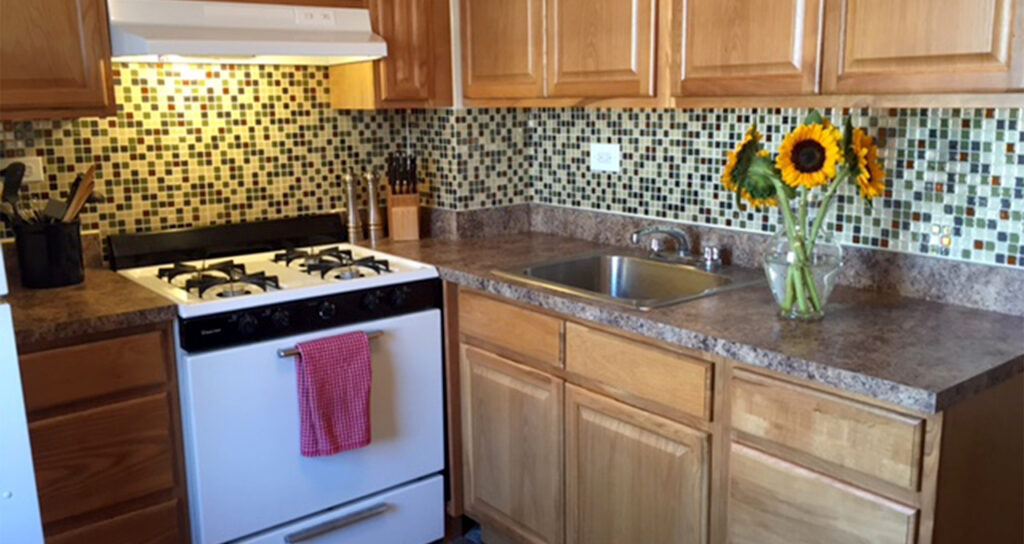 Smart tiles are a new innovation that allows for the integration of technology into tiles. These tiles are equipped with sensors and can be programmed to perform a variety of functions, such as adjusting lighting, regulating temperature, and monitoring air quality. They can be used in both residential and commercial settings and can help to create a more comfortable and efficient living or working environment.
Large-Format Porcelain Slabs: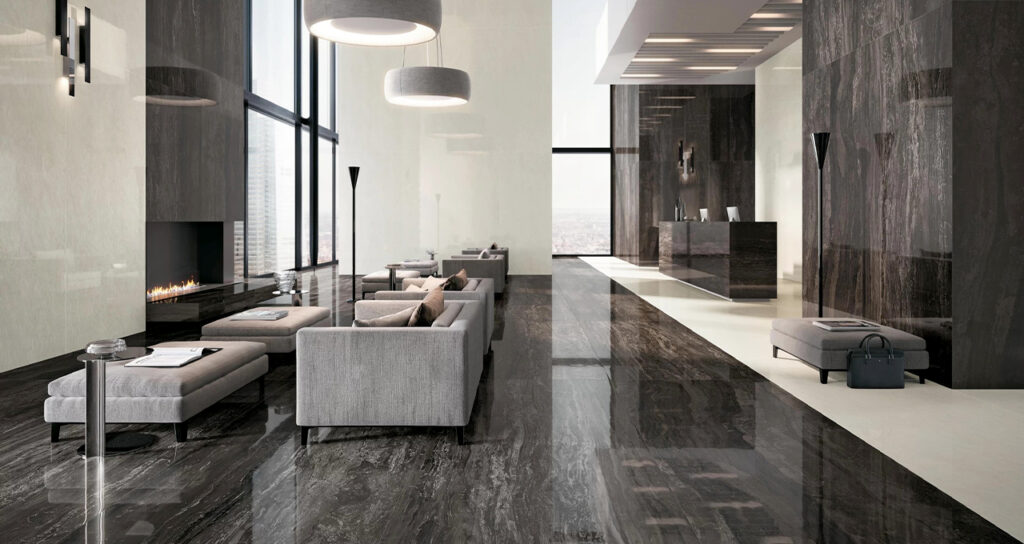 Large-format porcelain slabs are a new type of tile that offer a range of benefits over traditional tiles. These slabs are larger than traditional tiles and can be used to create seamless surfaces without grout lines. They are also thinner and lighter than traditional tiles, making them easier to install and transport. Additionally, they are highly resistant to scratches, stains, and heat, making them an ideal choice for high-traffic areas.
Antimicrobial Tiles:
Antimicrobial tiles are a new innovation that helps to prevent the growth of bacteria and other microorganisms on tile surfaces. These tiles are treated with a special coating that contains antimicrobial agents, which inhibit the growth of harmful bacteria. They are particularly useful in environments where hygiene is a top priority, such as hospitals, schools, and commercial kitchens.
Digital Printing:
Digital printing technology has revolutionized the tile industry, allowing for the creation of tiles with highly detailed and intricate patterns and designs. This technology uses advanced printers to transfer digital images onto tiles, creating a wide range of visual effects. Digital printing has opened up new design possibilities for tile manufacturers, allowing them to create tiles that are both beautiful and functional.
Recycled Materials:
Many tile manufacturers are now using recycled materials in the production of their tiles. This helps to reduce waste and conserve resources, while also creating unique and sustainable tile products. Recycled materials such as glass, plastic, and metal can be used to create tiles with a range of textures and colors, offering a versatile and eco-friendly option for homeowners and designers.
Revamp your Kitchen with Antica Ceramica's Latest Collection: https://www.anticaceramica.in/
To know more, Call us at: +91-9891075770
Easy Tips on Tile Maintenance
Proper maintenance of kitchen tiles is essential to keep them looking their best and prolong their lifespan. Here are some easy tips on tile maintenance that can help you to maintain the beauty and functionality of your kitchen tiles:
Regular Cleaning:
One of the easiest ways to maintain kitchen tiles is by cleaning them regularly. Use a soft brush or mop to remove dust and dirt from the surface of the tiles, and then use a mild cleaning solution to clean the tiles thoroughly. Avoid using harsh chemicals that can damage the tiles or strip away their protective coating.
Avoid Scratching:
Be careful when placing heavy items or dragging heavy appliances on the tiles, as this can scratch or chip the surface. Use furniture pads or felt pads on the bottom of appliances and furniture to prevent scratches.
Seal the Grout:
Grout is the material that is used to fill the spaces between tiles, and it can be prone to staining and discoloration over time. To prevent this, it's important to seal the grout with a sealant. This will help to protect the grout from moisture and stains and make it easier to clean.
Remove Stains:
If your tiles become stained, it's important to remove the stain as soon as possible to prevent it from setting in. Use a mild cleaning solution and a soft brush or cloth to scrub away the stain gently. Avoid using abrasive materials or harsh chemicals that can damage the tiles.
Repair or Replace Damaged Tiles:
If you notice any chips, cracks, or other damage to your tiles, it's important to repair or replace them as soon as possible. Damaged tiles can lead to moisture buildup, which can cause further damage and even mold growth.
Use Mats and Rugs:
Placing mats or rugs on the kitchen floor can help to protect the tiles from scratches and wear and tear. They can also help to absorb moisture and prevent slips and falls.
Avoid Excess Water:
While tiles are generally water-resistant, excessive water exposure can damage the tiles and cause them to become discolored or stained. Avoid leaving standing water on the tiles and wipe up spills as soon as possible.
Conclusion
By following these easy tips on tile maintenance, you can help to ensure that your kitchen tiles stay in good condition and continue to look great for years to come. Grab the latest 2023 collection in trend at Antica Ceramica, Kirti Nagar, gift your home an elegant kitchen!
Visit our website to know more: https://www.anticaceramica.in/
Call our team of experts: +91-9891075770
Visit our Store: 40, 371, opp. Metro Pillar Number 371, Block B, Raja Garden, New Delhi, Delhi 110015