Tiles are the most crucial element when it comes to enhancing the beauty and functionality of your home. From the floor to the walls, even the high traffic rooms such as kitchens or bathrooms, tiles have the power to transform the aesthetics of any space. However, choosing the perfect tiles that suit the interior as well as the needs of your home is a daunting task. Having to choose between so many options for wall and floor tiles can be overwhelming. But don't worry; here's a comprehensive guide to help you go through the process of selecting the ideal tiles for your home.
What you need to look out for before buying tiles for your home
Before investing a fortune in buying tiles for your home, it is crucial to know what you need to look out for. Everything from durability to design has its importance, and none can be overlooked. Here are the key factors that you need to consider for a smart tile-buying decision.
Understanding your needs
Before you start scrolling through various tile designs on the internet or visiting dealers to choose the perfect tile for your home, it is essential to first address your needs and requirements. Every room has different needs; consider the purpose of the area you are planning to install – tiles, bathroom, kitchen, or hallway. Think about each factor, such as durability, scratch and water resistance, aesthetics, easy maintenance, etc., and consider their weightage depending on the interior space. This will help you to narrow down the tile options that are best suited for your specific requirements.
Exploring different tile materials
The versatility of tiles lies in the vast material options available, each with its own set of characteristics. Get a thorough insight into the pros and cons of different tile materials such as porcelain, ceramic, stone, mosaic, glass, etc., and see if it fits the interior needs. High-traffic rooms such as the kitchen and hallway need highly durable and scratch-resistant tile materials, whereas mosaic is a popular choice to be used as a backsplash in the interior.
• Natural stones:
Marble, granite, and slate are among the popular options of natural stone tiles that offer a timeless appeal to the home interior. These tile materials bring a luxurious touch to any space and thus can be used in highlighted rooms of the home.
• Glass tiles:
Glass tiles add a sleek and modern touch to your home interior, creating a stunning visual accent. But its beauty comes with the cost of high maintenance and a high budget.
• Porcelain:
Porcelain tiles are highly durable and water-resistant material which are the two perfect traits that make it the best choice for areas more prone to moisture, such as bathrooms and laundry rooms.
• Ceramic tiles: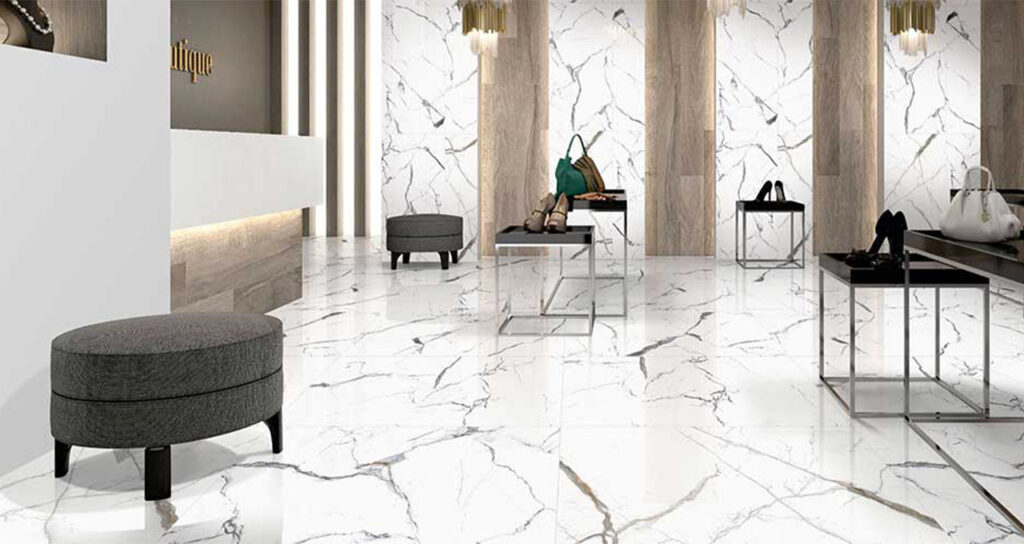 Best tile option for budget-conscious homeowners who are looking for an affordable range of tiles for their home interior without compromising the aesthetics.
When you shop at the best tiles showroom Antica Ceramica, you can explore the characteristics of a wide range of tile materials and make an informed decision that aligns everything from desires, aesthetics, and budget to functionality, ensuring that you have the perfect tile option for your home in your hands.
Understanding the size and shapes
Understanding how the size and shape affect the overall look of your room interior is a game changer. The choice of tile size can influence the perception of the space; larger tiles create a seamless look, whereas smaller tiles add visual interest to the space.
In addition to tiles, the shape can also impact the overall look and feel of a space. For example, rectangular tiles like subway tiles can create a sense of elongation and is a popular option to visually expand smaller rooms. On the other hand, square tiles offer a balanced and classic look. For a unique and creative touch, you can explore different shape options such as diamond, octagon, etc.
Exploring finishing and textures
Finishing and texture of tiles significantly impact both the functionality and aesthetics of the home interior. For a sleek look, you can try glossy tiles having a reflective surface that enhances light, whereas matte tiles provide a non-reflective, smudge-resistant option with better traction reducing the risk of accidents, and are a good option for wet surfaces.
Textured tiles add depth and grip, which makes them ideal for high-traffic areas such as the kitchen and hallway, as well as wet floor spaces such as a bathroom or laundry room.
Conclusion
Selecting the ideal tile for your home is a process that involves thoughtful consideration of several important factors. By taking into account your specific needs, style preferences, and practical requirements, you can make the right decision in selecting the perfect tile that enhances both the beauty and functionality of your home interior.
While durability and sustainability are highlighting features when selecting among different tile options, texture, finishing, shape, and size also weigh a heavy amount of consideration in the decision-making process. These factors not only contributed to the overall aesthetics of the space but also helped in determining the functionality and visual impact of the chosen tiles.
Your perfect tile option sometimes doesn't align with your budget, and that's where Antica Ceramica comes in. As one of the best wholesale tile dealers in Delhi, we offer a wide range of high-quality tiles at competitive prices, making it easier for you to find the perfect tiles that meet your style preferences and budgetary constraints. Trust Antica Ceramica to provide you with exceptional value and customer satisfaction in your tile-buying journey.