Tiles have long been celebrated as the epitome of elegance in home décor – and why shouldn't they? Their ability to effortlessly elevate a space is nothing short of magical. You can transform a space with just simple ceramics that you buy from the best tiles store in Delhi and create a homely touch. These tiles, with their intricate designs and splendid finishes, serve as a testament to our aesthetic aspirations. However, they can only do so if they are properly maintained.
Just like any other piece of art, these tiles also require care to maintain their splendor. There is also a need for regular upkeep – something that folks often ignore. Luckily, we have compiled a definitive guide for you that can help you do just that. With our guide, you will ensure that your tiles remain the centerpiece of your décor – and for a long time.
Understanding The Many Tile types
Before we go into the standard tips that you can employ today to increase the longevity of your tiles, you must first understand that not all tiles are created equal. There are several different types, each offering unique aesthetic benefits and has specific care requirements. So, let's first cover these.
Ceramic and Porcelain
Ceramic and Porcelain are among the most commonly used tiles when it comes to home décor, and it is not surprising at all. These tiles are praised for their longevity while at the same time adding a sophisticated touch to spaces. Their low maintenance requirement is also one of the main factors for their popularity. One can simply do a weekly cleanse with a gentle detergent and water, and they will be good to go another week.
Natural Stone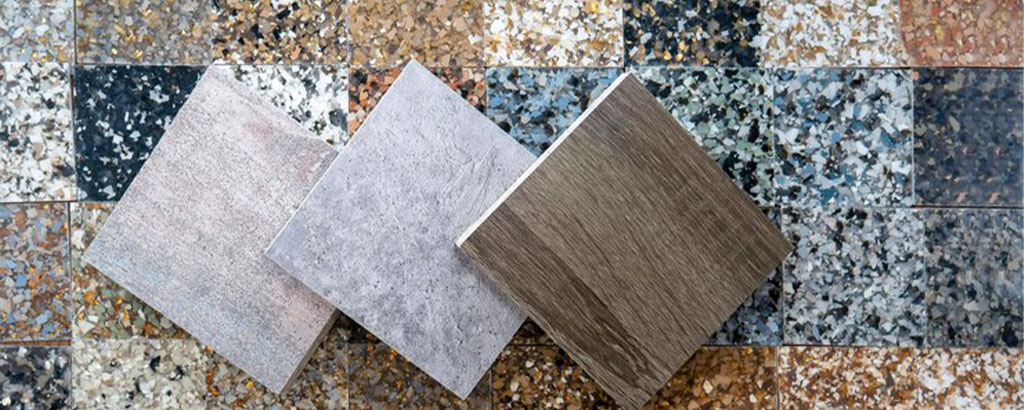 Natural stones, such as marble and granite, are also popular among folks looking for intricate patterns and textures. Their raw beauty is simply unmatched. However, one should keep in mind that these tiles can be a magnet for stains. You would need to promptly address any spills, use pH-neutral cleaning agents, and even have them sealed once a year.
Glass Tiles
Finally, we have the glass tiles that are quite popular because of the reflective quality that can amplify any room's ambiance immediately. When cleaning, steer clear of harsh tools. Instead, opt for a lint-free cloth paired with a streak-free glass cleaner to ensure they remain pristine.
Routine Maintenance Tips That You Need To Be Aware Of
Consistent, gentle care of your tiles will ensure they remain impeccable for a long time. But how can you do that? Here are some tips that will help you out massively.
Daily Practices
Consistent attention always pays dividends – and nowhere can this saying be truer when it comes to taking care of tiles. Swiftly sweeping floors will also prevent gritty dirt build-up, which can have a massive impact on the tile surface.
Similarly, kitchen and bathroom tiles thrive when regular wipe-downs are a regular feature, particularly after steamy showers or cooking sessions. If there are any spills, then it needs to be addressed immediately.
Weekly Cleaning
Another tip you must rigorously follow is crafting a mild solution with a drop of detergent and lukewarm water. You also need to keep in mind that excessive scrubbing can have an adverse impact on tiles. It can introduce micro-scratches, so you must always use a plush mop or cloth when doing the cleaning.
Also, drenching is entirely unnecessary; use a dampened cloth – it is the most effective solution out there.
Avoid Common Mistakes
You would be surprised by some of the most common mistakes that homeowners make when it comes to taking care of their tiles. Understanding these common pitfalls can be half the battle won. Here are some mistakes to watch out for:
Opting for Acidic Cleaners: Products with high acidity can cause discoloration and damage the protective glaze on tiles.
Using Gritty Scrubbers: These can scratch and compromise the finish of your tiles, making them more susceptible to staining.
Home Remedies: While vinegar and lemon might be hailed as cleaning champions, they're not tile-friendly. Their acidic nature can erode the tile surface over time.
Steer clear of these, and your tiles will remain in pristine condition for many years.
Dealing With Stains And
Finally, when it comes to tiles, there is one thing we must tackle head-on: stains. Occasional mishaps are inevitable, but their aftermaths can be easily managed. Here's how:
Common Tile Stains And What To Do
Wine: Blot gently; avoid rubbing. Simply use a concoction of baking soda and water, which acts as a potent stain remover. Apply it, allow it to dry, and then rinse for maximum effect.
Coffee: A touch of detergent combined with warm water can easily take care of it. Be careful to use gentle strokes while doing the cleaning.
Ink: Alcohol wipes are the solution here. Apply it and then do a water rinse.
Conclusion
Your tiles are more than just a surface; they add character and beauty to your space. By adopting the right maintenance practices – such as going to the best place to buy tiles in Delhi and taking proper care of them, not only do you ensure they remain the star of your room, but you also extend their lifespan. So get started immediately!